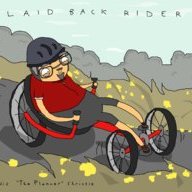 LBR
Member, Male, from Portsmouth
LBR was last seen:

10 Nov 2018
There are no messages on LBR's profile yet.

Loading...

About

Gender:

Male

Location:

My ride/s:

ICE Sprint Trike

Interests:

Photography

I wanted to do something to raise awareness and raise funds for the Bowel Cancer UK Charity. So I planned, organised and funded an unsupported ride from John O'Groats to Lands End in 2013, having only started cycling in 2012! Sadly my mum didn't get to see me complete the ride. I need to keep on raising awareness and get people to get themselves checked, as this disease kills over 16,000 in the UK alone. The first ride took 12 days and included a trip to hospital for me! I had a terrible damaged knee and was told to stop the ride but I carried on as I could let everyone down. I completed the ride gaining some great publicity and raising over £3000. After a period of recovery I decided I needed to ride again and did the reverse route in 2015. Again great publicity and this time raising over £5000. This time no trip to hospital but did suffer with my back during and after the ride. This, I later discovered, was due to having prolapsed two discs in my back. Fast forward, through a few years of recovery and my back is generally improved. However my two wheeled upright cycling days are over, It's just too painful and sets the sciatic pain off ever time I ride. However I'm not a quitter!!


The Plan


I have just switched to a second hand recumbent trike, an ICE Sprint 26 and training for a huge charity ride is just beginning. What is this ride you might ask ? Well bigger and better than before I now plan on cycling from Northern to Southern France ( St Malo to Nice) . Taking in a Tour de France mountain called Mont Ventoux! Again spreading the Bowel Cancer UK message and raising them more money. You can find me at laidbackrider online

Interact

Loading...

Loading...

Loading...