I'm selling my Pashley Roadster Sovereign.
This is the 8 speed version, with all the bells and whistles - dynamo front light, Marathon Plus tyres, built in frame lock, rear rack, stand, ding-dong bell etc..
It's a 24.5" frame, with the double top tube. Pashley recommend this size for those with an inside leg (i.e. from sole of foot to crotch) of 34" to 38.5".
I bought this new about 2 years ago and have used it infrequently. It's in very good cosmetic condition, just a few minor scuffs and scrapes. Mechanically it's in full working order.
Selling as I have just bought a Pashley Pronto which I think is more suited to my needs.
Standard specification bar the following:
Bars replaced with a slightly different shape bar from an older Pashley.
Horrible original grips replaced with some cheap and cheerful comfortable grips.
BB replaced with a Shimano UN55.
Coat guards removed. I lost one of the clips that hold these on and they needed constant tweaking to stop them rubbing on the rear tyre. I have the guards and will include them in the sale, but they have a couple of small holes in them where I tried to cable tie them into position.
Pedals replaced with better quality, grippier ones.
Full specification on this link:
http://www.pashley.co.uk/bikes/bicycles/roadster-sovereign.php
I appreciate that there's not a huge demand for these, so priced realistically (I think) at £400. RRP is £790 new.
Collection only, from Nottingham, NG5 (about 4 miles north of the City centre). It's a big bike, but will fit into a medium sized hatchback (e.g. a VW golf) with the bars turned and front wheel and seatpost removed.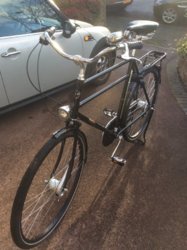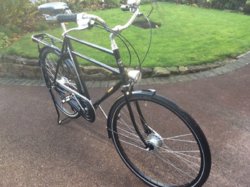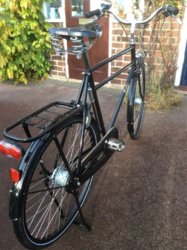 @Drago
You may be interested?