17 inch hard tail xc frame [ actually made by Focus ] , very little used and in great condition..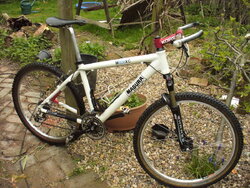 Comes with Acros al 03 headset. It has disc mount on the rear but also brake bosses for cantis or v brakes. Replaceable hanger.
I bought it about 6 months ago and have used it a few times but never crashed it or jumped of any rock faces

as if

Reason for selling.. my feet turn in so much I clip the chainstays on this frame, shame as it is so bloody nice

better than my M1000.... ...
I will be on my old steel Stumpy for a while, I am just about ok on that one.
£200 inc headset and postage , collection is ok, Malvern , Worcestershire. I will knock off 15 quid if collected.