Found in the Yorkshire hills ...
​
This is a very rare DBS Winner road bike from Norway, dated approximately 1973, in a light metallic green. The frame has mudguard eyelets front and rear plus a selection of other Huret-style frame mounting points on the rear, possibly for a trailer. It's not light, but is a usable commuting / touring / vintage road bike. It's also got it's own integrated lock with key, plus kick-stand. Very Scandinavian!
Posted in the Vintage bikes forum
when I picked it up in January - and yes, I got it for free. But then have spent far more on parts, with posts about it in the 'fettled' and 'bought' threads.
​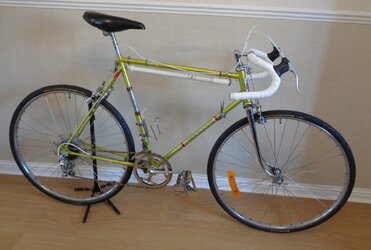 59cm / 23 1/2" steel frame with chromed forks, it has the following:

- 10 speed Huret derailleur gears (2 x 5) fully working with new inner and outer gear cables.
- One piece 50/42 crankset with chrome pedals
- Weinmann brake levers with Weinmann 750 Vainquer 999 cantilever brakes. New inner and outer brake cables with new brake pads. New brake hoods.
- 27 1/4" wheels with Atom hubs, 5 speed rear and an almost new spoke disc.
- New 27 1/4" Continental Gatorskin tyres front and rear, with wing nuts on both wheels.
- New KMC chain
- Chromed stem and drop bars with new white Shimano Pro handlebar tape
- Integrated bike lock with key
- Unbranded saddle and seatpost
- Bottle cage
- Kickstand
- SKS pump

This is a vintage bike, so has a number of marks, but is fully working having had new parts fitted in the last two months. It's far too big for me to ride and I'm needing to down-size my bike collection apparently. Or at least according to my wife.

The price doesn't cover the parts cost alone for all the new parts fitted.​


Collection please from Dewsbury, West Yorkshire, WF12.