###### SOLD #######
Due to serious lack of use I've decide to sell my tourer. Bought in October 2010 with the intention of doing LEJOG, but my wife revoked my 2 week pass

I used it as an occasional commuting bike & a couple of short tours (2/3 days) for which I now use my 'winter' bike, so the tourer has not been used for the last 2 years.
It's pretty much std, apart from the stem & saddle. I've fit a shorter angled stem, but still have the original which would be included in the sale. & It has a Spa leather saddle fitted. The original pump was lost/stolen & has been replaced.
The wheels have hardly been used, as I had a dynamo set bought a few months after the bike, but they are not included (now fitted to my winter bike) so the original wheels have only covered a few hundred miles & have been fitted with Marathon plus (London) tyres which are almost new. Probably covered 200 miles max.
It is in excellent condition with the usual light scratches & scuffs from use, but nothing serious.
Looking for £550 ono.
Located near Hornsea, East Yorkshire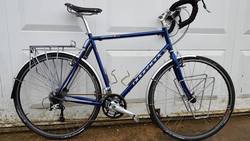 Last edited: