hi all ,
Just trying to see what interest anyone would have in this 11 speed wheelset, came on my 2015 merida bike in November, I have done about 80 miles in total on them, come complete with maxis dolomite 25mm tyres & tubes.no cassette ,
Not sure about Qr's yet, depends if the wheels I'm after come with them. How does £140 posted sound....?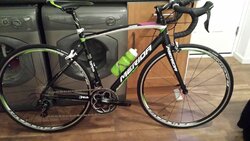 These ones, green highlights can be easily removed. The wheels will be available in 2 weeks time, by which time I hope to have sorted out the wheelset I am after.
Thanks
Tony
Last edited: