Hatemybike hatemybike hatemybike. Right. Eventually found the puncture. Repaired it, replaced tube, re-inflated until it felt pretty hard (30-40psi at a guess?), then noticed a nasty bulge. Can't decide whether this means that I've done something wrong, or there's something wrong with the tyre.
Have a look - two images to compare different sides of the wheel:
This is how it's supposed to look, I'm guessing - there's a guideline raised from the rubber which nestles against the rim all the way round.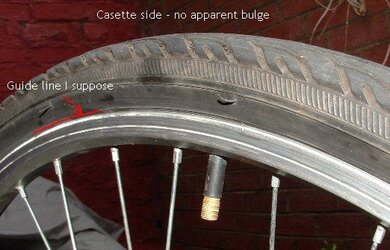 This is the other side: before inflation, the guideline sits alongside the rim, and upon inflation this bulge develops.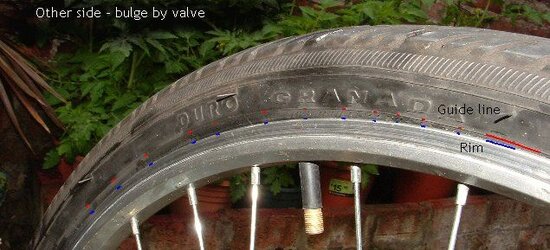 Am I committing some utter noob error when I'm replacing the inner tube? God I suspect so, but can't think what it might be. Or is there something wrong with the tyre or tube?