I have an for sale an unused
Park Tool SK-1
starter toolkit which I won in a competition but don't need.
Description of contents from the Park Tool website:
AWS-10 Wrench Set, 2mm to 6mm
CL-1 Synthetic Blend Chain Lube
CT-5 MiniChain Brute Chain Tool
DCW-1 Double Ended Cone Wrench 13mm & 14mm
DCW-2 Double Ended Cone Wrench 15mm & 16mm
DCW-3 Double Ended Cone Wrench 17mm & 18mm
FR-5 Cassette Lockring Tool
GSC-1 GearClean Brush
HCW-16 Pedal Wrench and Chain Whip
HR-8 Hex wrench
SD-2 Shop Screwdriver #2 Phillips
SD-3 Shop Screwdriver 3mm Straight Blade
SW-7.2 Three-way Spoke Wrench
TL-1.2 Tire Levers
VP-1 Vulcanizing Patch Kit
Tool Box (13" L x 7.5" W x 6.5" H)
Obviously it's all good quality stuff.
Pictures of the actual box (with apologies for appalling mobile phone flare) The tray lifts out.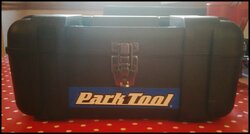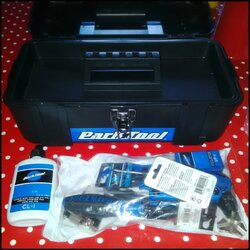 EDIT - and the chain whip I forgot to get out of the box when I took the other pictures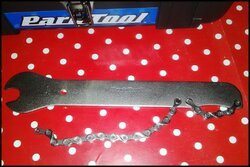 It would make a good starter kit for someone who has vowed to do more of their own maintenance this year, or a good upgrade from less good quality tools. And the box is quite nice too.
I'm looking for £50 via gifted PayPal including UK delivery, which will get me a new back wheel