Hi everyone, for sale as per title. See photo. Unwanted bundle component.
Payment to my justgiving page please and I would much prefer a Giftaid eligible buyer.
I will provide the details once interest has been shown.
Genuine item includes instructions and spacer. Never been used.
I know generic versions of these are available for less than a tenner but this is a Garmin accessory and I'm not actually getting anything from the sale.
Proceeds to Macmillan Cancer through my fundraising page.
Would like £15-no offers please and Giftaid on top would be very much appreciated.
I have never used paypal gift and would like to avoid fees etc.
Thanks Gerry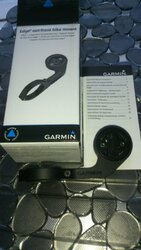 Last edited: