Good morning,
This is a follow on to
https://www.cyclechat.net/threads/how-much-bike-do-i-really-need-a-6-month-experiment.284154/
Someone nicked the Norco and it has been replaced by this, bought from a Cash Convertors branch, a chain of Pawn/Second hand shops for £90, typically they go for between.£50 and £90 on
ebay
around here.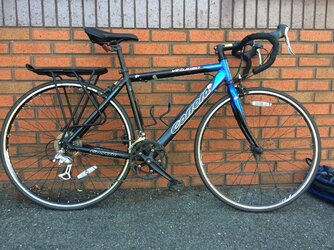 It is a Carrera Virtuoso, similar in market position to the current version and really quite old. It is a step down from the Norco in that the gears are Shimano 2000 series with the thumb release for changing up a gear and has a carbon steel fork and steerer.
Weighing 12kg with the rack, which is mounted the wrong way round as it doesn't fit the correct way round, it is heavy in the way that 501 main frame tubes only or 531st with racks and mudguards is.
In reality it seems to be about 5 minutes slower on the commute, getting slower as the number and steepness of the hills increases. Yes this is a "so what" slower, but if I were riding in a group this may put me into the category of annoyingly slow when the road rises just because of the bike.
For me a big problem is the thumb levers, I can't operate them from the drops which is a problem as 2 or 3 times a week I come home mostly flat out. I found that as I wanted to keep the weekends for recovery I was losing a lot of fitness just riding at commute speeds. Of course I could resolve this by getting a new set of Claris shifters, but that starts me off the just upgrade this and then that and then route ……. a set of CF forks would be an upgrade, as would lighter wheels and better tyres.
What is much harder to be clear over is that the ride is just not fun, when commuting you have to ride even if you don't want to and this makes those days horrible.
On the Jamis I can come up to a hill, change down chainrings and spin up it and feel good. Regardless of the gear, being 3kg+ heavier than the Jamis means that I would expect to need the next gear down, the hill is always an obstacle for the Carrera and on the flats it just seem like riding with slightly too soft tyres, every change in speed takes longer.
The Jamis has gained some weight as the RS10s were on the Norco, it currently has wheels that weigh 3.7kg with tyres, tubes and cassette, this is about 0.9kg more than the RS10s! But they are also rock solid with Sora hubs and 36 thick spokes they have probably covered at least 40k miles over the last 9 years.
IF you have ever ridden Vittoria Randonneurs and then you may get what I mean. J
If I had never ridden the Jamis then maybe I wouldn't know what I was missing and the Carrera certainly can do the journey, but over the week it becomes a chore. Is it because I know what I am missing or is it that the Carrera is outside of its comfort zone?
After all is still 4-6lbs lighter than the 5 speed Raleigh "racer" that many of us have had, and it has a lot more gears. Although for a commute bike I would be very happy with a 1x8 (50-11/32)
As the commute requires riding twice a day this means that you only have 12 hours recovery between rides, this requires either a quite high level of fitness or riding within your comfort zone. I could skip the high intensity rides and budget the exertion but that is a route that I don't intend to go down.
It is possible to use public transport on the commute route, but the door to door time is greater than riding, on a really good day it can be an hour home by bike compared to the 90-120 minutes by bus/train.
Bye
Ian
Last edited: