As I was merrily gurning into the icy wind on the way home yesterday I heard a tell-tale pffffft. Actually at first I thought a strap on my bag had come loose and was rubbing on the tyre, but no, it was one of those things we can't mention. I was only a mile from home, so I took the bag off the back and walked home.
On inspecting the inner tube on my return, the hole was quite obvious, and as it was already patchier than T-mobile's coverage I binned it - but not before lining it up with the tyre to see if I could locate a sharp thing.
What I found though, was this clover-leaf hole (on the left, below the reflective bit - I'm bending the sidewall)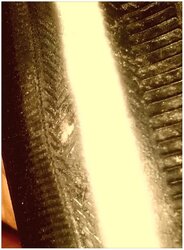 I guess something has pinched it as there is a matching scuff on the wheel - the road I'd just been on is tremendously pot-holed and downhill, so I go quite fast - but in the dark I'm not quite as efficient at dodging the holes. I didn't feel any bump more severe than normal, but then it's always a bit of a teeth rattling section.
I've never had this sort of 'pinch flat' before, and this one has occurred only a few commutes into using my pannier rack; I've previously used a rucksack. Is this sort of thing more likely with panniers? On the bumpy roads I go down I generally come a little out of the saddle and absorb some of the shocks in my arms and legs. When I had the rucksack on this meant that my weight and the weight in the bag was sprung to a certain extent - that is to say it wasn't all rigidly fixed to the bike. Now I have the pannier there is about 5-6kg of 'stuff' rigidly attached to the bike over the back wheel (in one bag, on the opposite side to the hole) that I presume puts more stress on the tyre when I go through Sheffield's homage to the road surfaces of the blitz. Has anyone else noticed this sort of thing being more frequent with panniers, or is it just one of life's coincidences? The tyre was inflated to about 65psi by the way (according to my pump at least) - it's 26 x 1.5" and has a recommended range of 45psi to 95psi.
Finally - the tyre is almost new, and although I will pick up another tomorrow for not much, on an environmental level it seems wasteful to just throw this one away. Is there anything useful you can recommend I can do with it?