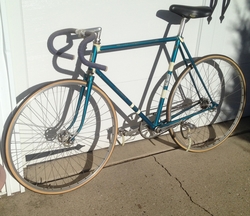 The bike is a Motobecane Le Champion, I think the paint scheme puts it early 70's, 72 or 73? That would fit with the information I've been given. A friend in the States was left it by a client. The bike was converted to fixed gear (I'm wondering if that included a wider hub because it looked like there was no space to fit a cassette) as the previous owners track bike. Probably at the younger end of its life time. The stem is Record, the cranks TA, the seat Avocet, so I'm guessing they probably sold the Campy bits to cover the conversion for the track. The bike lived its life as the previous owners track race bike (I'm guessing with a different seat).
As the photo hopefully shows, the bike is in very original condition (fixie conversion aside) and still has the sellers sticker on the down tube. There's a good chance it's never been ridden outside of a track since the conversion.
The current owners nephew has been told 'Fixies are cool' and so is angling to buy it. My friend doesn't want to be made a fool by asking too little (especially as he is a lawyer), but equally owns three bikes he hasn't used in 30 years. Before you attempt a gazumping, remember the bit above about it being in Wisconsin at the moment.
Any ideas on value?