I like my watches and particularly Casios for touring, this one has an altimeter, thermometer and a decent barometer. It's also waterproof to 100m and has all the usual Casio extras, alarm, worldtimes, stopwatch, light etc....
It's a large watch but luckily the senors are on the upper side, so it doesn't dig in your wrist when riding, I've used all the features and the altimeter and barometer are good, the temp is ok (ish) as it's affected by your body temp. It's been used for one 7 day tour and is like new, I am selling it as I have 3 similar Casios and seeing as they never go wrong and I can never break them or wear them out, it's too many.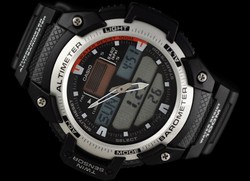 £35 plus £2.50 first class or £4.95 recorded first class.
http://www.amazon.co.uk/Casio-Combi-Watch-Sgw-400H-1Bver-Resin/dp/B004KPKU9C
Last edited: