Hi Folks,
Yesterday morning I picked up my new Boardman URB 8.8 which comes with a Gates Belt & Nexus 7 IGH. This morning I went to fit mudguards (Video is on YT if interested) and when removing the rear wheel from the bike (First time removing a wheel from both a Belt & Hub setup) I stupidly used a screwdriver to lever out the shift cable retainer and broke the plastic part that holds it in place. Idiot.
This image clearly shows the broken part.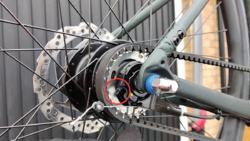 I believe I've identified the replacement part as
Y74Y98050
which is only £10 online but before I go and order it, I couldn't help but notice the damaged plastic part looks like it may be held in with two screws - does anyone know if this on it's own can be replaced? If not, £10 isn't the end of the world.
For anyone else that's replaced one of these, any tips? I'm assuming there is an optimal gear to put the bike in before doing it? Maybe not.
Thanks in advance for any input.
Regards,
Chris.