World class procrastinator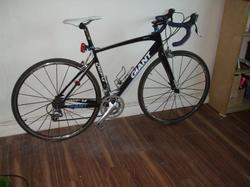 I am selling my Defy 2 as I really want a Norco Threshold and Hubster says that I have to sell a bike to get a new one (he is getting bossy in his old age, not to mention we don't have room really).
He's in nice condition, a few little marks but he's 3 years old, nothing major though.
Mavik Aksium wheels with Bontrager tyres
Bontrager bar tape
Tiagra shifters and rear mech.
Sora brakes and front mech
Shimano SPD pedals
I have the original manual to go with him.
He had a full service at the beginning of November where new brake blocks and cables were fitted.
That is not a huge scratch on the seatpost but where the bike shop put a label round when he was serviced and it's proving to be very stubborn to remove the residue. We get a bit more of it each day though.
I am asking £325 for the bike.
I am in Norwich but can deliver within 100 miles for a bit of diesel money.