Hi, all, I'm looking for some advice on a 2016 Jamis Coda Elite which I have just bought.
After reading some posts online regarding saddle height, I now have the saddle at what I think is roughly the right height for me and am happy with it. However, I now find the handlebars too low. I'm no expert and but have googled, but am going round in circles a little...
As far as I can see, the stem is as high up the stem tube as it can go, and I can't see a way to increase the height of the stem tube.
After googling I see that I can probably turn the current stem up-side-down for a tiny increase. Adding a stem riser, or adjustable angle stem would give me extra height, but then I notice that my stem-tube has a 'notch' in it - which may prevent either of these from fitting.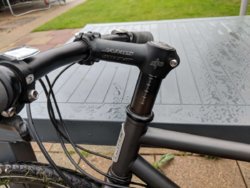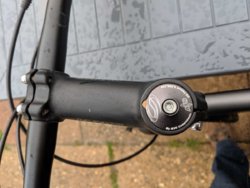 I've uploaded photos to which hopefully explain things.
All advice welcome! Thanks!
Coda.