Hi!
This summer I'm planning a trip up through Europe, and the last leg will be going along the North Sea Route in Norway, from
Kristiansand
to
Bergen
. Here's a picture of the planned route: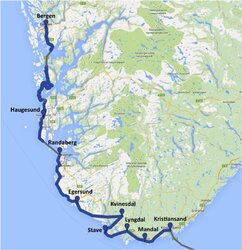 ​
I just had a few questions for people who have done parts of this route:
1
Are there any important/dangerous things I should be careful about in these parts of Norway?
For example, weather: like the Mistral in France, or the heat in central Spain or dangerous wildlife? I really don't know much about Norway, but am super excited to see some of it! Just want to make sure we survive.
2.
Are there good bike paths along the route? And is Norway generally considered bike-friendly?
I assume there are decent biking roads, as this is a pretty well known route, but wanted to check. Again, I don't know much about Norway, are drivers usually considerate of bikers there?
3.
Are there many campgrounds around? And is wild camping acceptable there?
I have the West Castor North Sea Route 2 maps which show some campgrounds, but not that many. Do you have any particular resources you have used to find campsites before?
4.
It sounds like the ferry from Stavanger to Skudeneshavn has stopped operating, is there a good alternative for cyclists?
It looks like there's a road onto one of the islands near Stavanger which then leads to a ferry going towards Bokn, but it looks like a major road that wouldn't be bike-friendly. If anyone has done this part of the route recently, how did you get across?
5.
Are there places to get relatively cheap food in Norway?
I've heard that it's a fairly expensive country, so I was wondering what tips you had for eating cheap there?
6.
Any advice on the route?
I can't really change the areas we'll be biking, but if there are specific places somewhat along the way that you have found that are particularly spectacular or interesting in some way (unique culture or scenery for ex.), I would love to hear about them!
Thanks for any and all help you can give!