Bought an Inbred frame a few months ago after advice from members on here, and I'm finally starting to build it up, so here are some pics!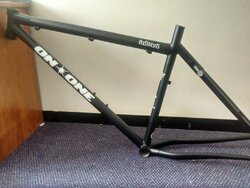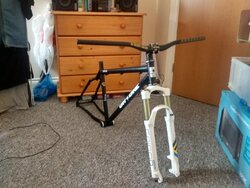 I was originally going to build it up with Rebas, but have decided to use a set of 100mm Epicons for now. Still a massive improvement over what I'm used to riding (~15 year old set of Rockshox Jett, elastomer forks). Might upgrade in the future, but I'm happy with these for now.
The bars are On-One's El-Guapo Ancho, nice and wide, on a On-One Ultralite 60mm stem. It all pivots nicely on an FSA Orbit MX headset. Bottom bracket is a HT2 XT unit.
More pictures to come as the build progresses!