Hi Folks....
I have the O.E wheels off a 2014 Defy 2 for sale. part number SR-2 They were taken off the bike after about 12 months of use. The rear hub was a bit noisy when I removed them, I think its sealed so bear in mind(the front was fine) the logos are Okay-ish the worst is on the front and seen in photo. They are fitted with a 7 speed sprockets instead of the original Tiagra 10 speed. (the sprocket/Cassette is hardly used as I put it on to use on a hybrid build that never happened but is rusty through sitting around PRICE £25 posted to UK mainland (postage is about 15 quid)
They are very used but would be okay for a rat bike or turbo bike Edit to say the rim braking surfaces are good still have the slightly grooved surface on them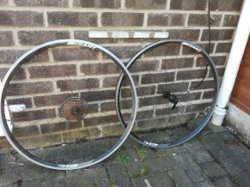 Pedals 2 x Shimano SPD-SL in Black
Both are very used and scuffed
Set A (see photo) are the better pair less scuffing and bearings seem perfect included are a pair of new NON SHIMANO/NON O.E. Cleats - £9 posted
Set B (see Photo) are a bit more scuffed and if being critical it seems the right bearing seems not as tight as the left - but only very slight play again new Non O.E cleats are included. £7 posted.
If any wants more than one item then postage can be combined. Payment by paypal.
Any takers?
Last edited: