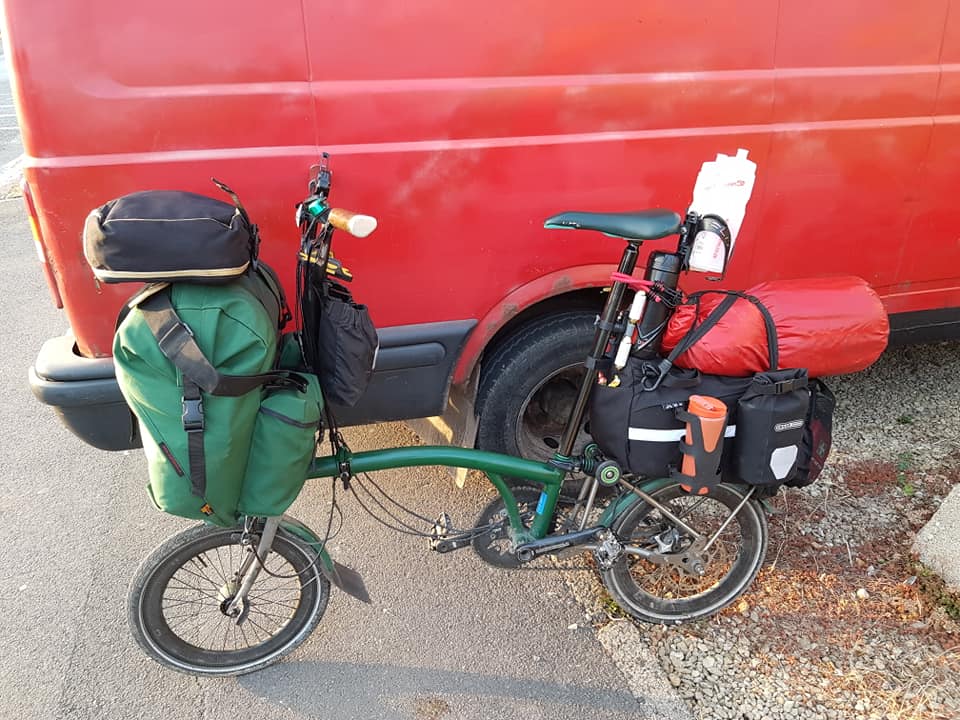 My 11-speed all setup for a camping trip (in this case to BlueDot Festival
Henrietta all setup for a recent trip to BlueDot festival...
Front bag is a Fiets-a-Parts Rolltoptas, they're a dutch company, the bag is made for them by RadicalDesign (the folks that make Brompton bags for Brompton), it has my thermarest mattress, my tent and a waterproof poncho/blanket in it and the pockets contain my washing kit (left) and my self-inflating pillow, an umbrella and a tyre reflator (emergency with latex type). On top of it is the OuterEdge transit bag that I use when on coaches.
Strapped to the back of the handlebars is a Brompton saddle bag (that would normally have the cover in it) and it's holding some tools and a lock.
On the back of the saddle is a Tacx triathlon twin bottle cage with a pair of 750ml bottles and under them on the seatpost is a swivel mount with a tool bottle and a CO2 reflator plus cartridges.
The bag that is hard to see is a standard Brompton Racksac, modified with four sets of Ortlieb pocket holders. In the Racksac is mostly my cooking stuff, a very small coldbox with a set of army mess tins, and a couple of takeaway containers in it, plus various dehydrated food items (noodles and the like) plus a few tea and coffee bags and hot chocolate sachets, it also has a folding sink and a folding toaster.
On the left I run a bottle cage with my thermal cup and a small pocket that had a pair of gas bottles for my stove wrapped in a pair of gloves, on the back is a mesh bag with my waterproof jacket and first aid kit, on the right is a large waterproof pocket that is mostly things like phone chargers and snacks plus a travel neck pillow and my headphones. When I'm on a coach I can detach that pocket and it has everything I need for the journey in it, by adding the shoulder strap from the Racksac it also becomes my day bag on festivals.
Finally on top of the Racksac is bungeed a 20 litre Ortlieb drybag with my clothes (for five days) and my sleeping bag in it. If I was just away for a single night or two and was just riding to the site then I wouldn't need the transit bag and the reduction in clothing and phone chargers would mean I could stuff a change of clothes in the big pocket and do away with the big drybag.
Next expedition is due in September and I'll try and dig out some more pictures plus design thoughts on making my own rear bag for camping stuff..