I try and commute by bike or partial commute as much as possible.
T Wells is very congested and air quality in places is awful.
When I park and ride I park sensibly, not blocking views from a drive or side road etc but I got this on my car today.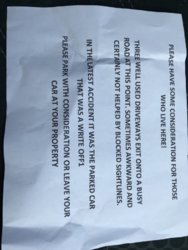 A resident did speak with me as I was stowing my bike and had a real go, it's not a road that's crowded with people parking, he said the congestion is bad etc I said you have seen I have a bike I'm trying to help, he basically said don't park here again, I'm tempted to ignore him, but don't want to risk having a car damaged.