Hi all,
TLDR; scroll to bottom.
Last week I got a flat tire which appeared weird to me because it seemed to happen overnight after having ridden on my bike for a relatively long trip (25km) the previous day without any problems. The flattening was also a slow process and I had trouble finding the initially finding the leak. It didn't seem like it was a puncture since there was no obvious hole and the leak was on the inner part of the tube (facing closer to the wheel). I patched it nonetheless and didn't think about it much more.
Fast forward to this week: got a flat in the other tire 15km from home on a public holiday. No bike shops were open and the supermarkets I visited didn't have bike repair kits (from now on I will always have one on me). Had to take the train home. The leak was in a similar spot as the last time. This piqued my curiosity since now it wasn't just a fluke, but a pattern. So naturally, I did a bit more investigating. It's a 650B setup and if you're curious about the bike itself, you can find more information
HERE
.
FYI, the tubes are only 5 months old and I estimate I've driven on them max 250km. I replaced the rim tape, tires and tubes at the same time. I did clean up some of the rust and grime inside the wheel, but I didn't spend a long time on this since the wheels and bike are quite old.
Cracking inner tubes at two spots (only visible when bent):
Inner rim width 20mm:
I think these are decent tires from a reputable brand (but what do I know?):
Rubber flakes on inside of tires (not sure if normal):
Rear wheel fixed last week and inflated for reference (will likely fail again soon):
It seems that the inner tubes are cracking where the tire meets the wheel, but due to the stretching of the inner tube once pumped up, I can't say precisely where or why this is happening. Therefore, before I buy new tubes, I wanted to check with you to see if it might be an error in part sizes that will lead to similar issues even with better inner tubes. Before originally buying them, I did spend considerable time to properly match the sizes using charts online.
The chart: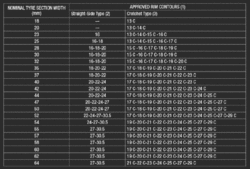 Here are the specs of the parts:
AMIGO Inner tube 26 x 1 1/2 x 1 5/8 (44-584) FV 48 mm
Ritchey Pro Snap On Rim Tape 27.5", black (Width 20mm)
Panaracer Pasela Clincher tire 27.5x1.75", black/skinwall (wheel size 42-584 | 27,5x1,75")
So, is the inner tube to blame? Do I need wider rim tape to cover more of the wheel? Is the wheel itself not good with this type of tire? What do you think?
Thanks in advance!
Last edited: